10 Content Marketing Strategies for Beauty Brands + Examples
Sep 17, 2021|Read time: 16 min.
---
Key Points
Beauty content marketing increases brand awareness, differentiates the brand, builds audience relationships, and drives more revenue.

The pandemic pushed consumers online, increasing the need for top-of-funnel educational content within the user journey.

Four beauty brands with incredible content marketing strategies are Allure, Sephora, Byrdie, and L'Oréal.
---
Historically, brick and mortar sales drove growth within the beauty industry. But, as consumers embraced digital shopping experiences throughout the pandemic, online sales became a significant revenue driver.
And what fueled ecommerce sales the most? Beauty content marketing.
Content marketing for beauty brands goes way beyond product page descriptions and paid ads. It involves targeting your audience throughout their journey: TOFU, MOFU, and BOFU. Those that do it effectively will grow their audience, strengthen their brand, and ultimately drive more revenue.
Beauty brands that do content marketing poorly, however, will leave gaps in the buyer's journey. In addition, they will lose Google organic market share and corresponding traffic, new customers, and sales.
Read on to discover the advantages of content marketing for beauty brands, and which strategies drive the strongest results.
Benefits of content marketing for beauty brands
Consumers rely heavily on different types of content to make buying decisions, research new products, and learn how to use different types of beauty products. It's critical that your brand is there to engage with them throughout the customer journey.
Standing out in a crowded market
In 2020, global spending in the beauty industry was $483 billion, and is expected to exceed $715 billion by 2025. In such a crowded marketspace, content marketing helps beauty brands cut through the noise and stand out.
From brand awareness to revenue
Content marketing is essential for your beauty brand because it helps you to:
Gain Google organic rankings and visibility
Differentiate your brand
Shine a light on your brand personality
Drive website traffic
Attract new customers
Build long-term customer relationships, and
Ultimately drive more revenue
---

Beauty content marketing builds customer trust and loyalty by providing valuable information throughout the customer journey.

---

TERAKEET
Beauty content marketing builds customer trust and loyalty by providing valuable information throughout the customer journey. It also enables your brand to stay top-of-mind over time.
Winning in organic search
What may come as a surprise to you is that it was not the long-standing, established, billion-dollar beauty brands in the market that were winning in Google. Instead, publishers such as Allure, Byrdie, and Good Housekeeping dominate the organic search channel due to their exceptional content strategies.
What this means is that most beauty retailers are missing out on millions of dollars worth of search real estate (and instead paying for it through advertising) every month. The benefits of content marketing include increased engagement, higher sales, better customer retention, and improved customer acquisition costs (CAC).
These publishers aren't winning because they're lucky. It's due to a massive investment in digital content. For example, Byrdie's parent company, Dotdash, invested more than $50 million into content over a three-year period across their publishing portfolio.
Download Terakeet's Content Strategy Playbook to jumpstart your marketing performance!
Beauty content marketing trends
87%
87% of beauty consumers say they spend more or the same online post-COVID
PowerReviews
49%
49% of consumers now spend more than $50 online on beauty products
PowerReviews
57%
57% of shoppers purchased from brands they never tried before
PowerReviews
The impact of COVID
As you would expect, the COVID-19 pandemic dramatically impacted the beauty industry. Prior to the pandemic, 85% of beauty products were purchased in person. However, during the pandemic, online sales have steadily increased.
Eighty-seven percent (87%) of beauty consumers say they spend more or the same online than before COVID-19. And along the same lines, 49% confirm that they now spend more than $50 online on beauty products; compared to 16% than when asked in 2019. And shoppers are now more open to exploring brands for the first time. Fifty-seven percent (57%) of shoppers report that 25%+ of their beauty product purchases in 2020 were for brands they had never bought previously.
---

Google became an integral part of the buying journey during COVID.

---

TERAKEET
Consumers who would normally rely on advice from beauticians were forced during the pandemic to do their own research about different beauty products. Google became an integral part of the buying journey, as did influencers who dispensed advice about various beauty products. Additionally, interactive content that helped consumers make buying decisions become more important.
The rising influence of content marketing for beauty brands
When it comes to marketing beauty products, educational online content is significantly more important now than it was before the pandemic. Beauty businesses that create high-value content across multiple distribution channels will have more success building trust with their existing customers. This type of growth marketing strategy also expands their audience more sustainably than those who rely on advertising.
For example, In February 2019, Ulta had the second highest market share for the hair care terms Terakeet examined, at 7.48%. Two years later, in February 2021, Ulta's organic search share of market declined to 4.86% and the company dropped to 6th overall in hair care market share.
The brand now ranks lower than Good Housekeeping, Allure, Byrdie, and Healthline — all of which are publishers focusing on quality content.
Conversely, beauty publishers and bloggers have been gaining a larger percent of Google market share over time.
In February 2019, Byrdie ranked 8th overall with only 2.23% market share. Within a two-year period it jumped to 1st overall with 10.74% share of the organic search visibility. Goodhousekeeping.com jumped from 13th to 4th overall with a 5X+ increase from 1.27% to 6.67% market share. Similarly, Healthline.com nearly tripled its market share from 6th to 3rd overall (2.96% to 8.97%).
Top 10 content marketing strategies for beauty brands
Digital marketing is vast, and there's plenty of tactics you can choose from, but most of them won't move the needle. If you're familiar with the Pareto principle, then you know you only need to execute a handful of beauty content marketing strategies in order to drive massive results. I've outlined the most important ones below.
1. Create SEO-friendly content
Consumers rely on Google at each stage of the buying journey. If you want to be visible at key moments, then you need to understand search engine optimization (SEO).
Conduct keyword research to understand what your audience cares about as they seek answers online. Then, publish and optimize content to show up at the top, middle, and bottom of the purchase funnel.
A holistic SEO strategy extends beyond product and service pages.
You must also create valuable content around informational and educational topics. You can even optimize your video content for greater reach and engagement. This type of SEO includes more generic, non-branded queries. As a result, you'll attract potential customers who haven't selected a particular product or brand.
Search-friendly content gets you in front of the right audience when they're most receptive to your messaging.
2. Publish long-form content
When it comes to organic search, long-form content tends to perform better than shorter content. According to an Semrush study, content ranking in the top 3 positions in Google was found to be 45% longer than the content in position 20 on average.
To clarify, content length is not a Google ranking factor. So, don't add fluff to boost word count. Rather, cover a topic as completely as necessary with high-quality content.
Google prioritizes content that fully satisfies the intent behind a search so that a person doesn't have to go to multiple sites to find what they're looking for. Long-form content meets this criteria because it anticipates and answers user's questions about a subject. Furthermore, it enables you to rank for similar long tail keywords with each piece of content.
As a result, you'll expand your reach and build relationships with new customers.
3. Choose your content distribution channels
Effective beauty content marketing utilizes multiple distribution channels. This may include:
Your ecommerce website
Your blog
Third-party sites and beauty blogs
Social media platforms
Influencer marketing
Branded communities
Podcasts
YouTube
Public relations
Email
Sponsored content and collaborations
Your marketing channels should correspond with your target audience's behavior at the different stages of the customer journey.
For example, you might use search engine optimization to initially attract someone to your site. Then, you could retarget them across social media platforms with behavioral marketing. After someone joins your mailing list, you can push content directly to them to build trust.
Finally, you could complement these activities with PR, social media content, and influencer marketing campaigns to remain a prominent voice in your industry.
By producing content across multiple channels, you introduce more customer touchpoints along the buying journey.
4. Make use of user-generated content and reviews
User-generated content (UGC) and online reviews are an outstanding way to build trust with your audience. Because the content is created by actual customers rather than your brand, it's much more authentic. People might not necessarily believe everything you say about your brand, but they will believe what your customers say. UGC and reviews are a powerful form of social proof. They show people actually using and enjoying your products, which helps solidify your own digital marketing messaging.
Wherever possible, highlight UGC and reviews. Showcase it on your website. Post it on social media. Leverage it in PPC ads. The more you can show real people benefiting from your products, the more you'll establish your reputation as a trustworthy brand.
5. Drive engagement with interactive content
As we noted earlier, interactive content that delivers education or helps consumers to make buying decisions is becoming increasingly valuable, especially in the beauty industry where there is a strong visual aspect when it comes to buying products.
A good example of this is Ulta's Glam Lab tool shown below. It allows customers to visualize what they'll look like with different types of makeup, hair colors, or eyelashes. Since the COVID-19 pandemic, use of the tool has exploded, with millions using it to virtual test different products.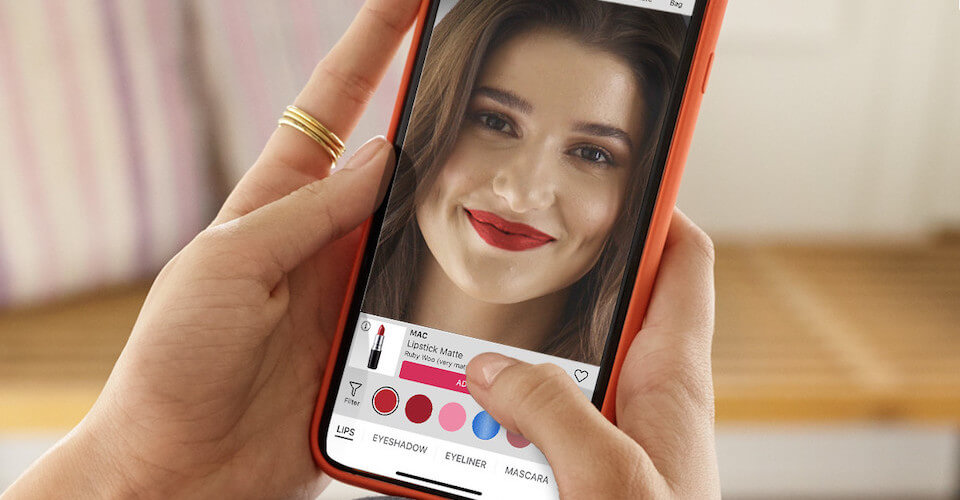 Another example of beauty content marketing comes from Rihanna's Fenty Beauty brand. The website features a shade finder tool on its site and allows customers to choose from 40 different shades of foundation.
Yet one more example is Bleach London with its "Bleach Hair Party" platform. The Hair Party essentially acts as a digital salon. Consumers can engage in live conversations with the brand's Creative Director, Alex Brownsell, and other guest speakers. The series guides customers through the hair dye process with prominent, professional colorists.
Interactive content increases customer engagement while also allowing customers to feel like they're driving the buying process. Rather than feel like they're being sold to, they feel like they're an integral part of the whole experience.
6. Build a community
Online communities are a great way for beauty brands to build loyalty and increase engagement. They provide a platform for members to share advice, recommend products and engage in conversation about their interests.
Communities also provide a space where brand representatives can engage with your ideal buyer personas. They can answer questions, provide helpful advice, and respond to any problems that may come up.
Glossier has leveraged its online community with massive success. Even though it has more than 3 million followers across its social media profiles, it constantly uses social media to have meaningful conversations with customers. This includes everything from answering simple questions about products to even inviting suggestions for future products. The result is a large, loyal customer base that loves Glossier products, and is vocal about their brand love.
7. Collaborate with beauty influencers
Few industries are more associated with influencers than the beauty industry. From the Kardashians to James Charles, influencers can have a major impact on what products people buy.
This Jenn Im video is sponsored by Skinceuticals, featuring a fun transformation of Im's appearance so that she's ready to head out and hit the town.
The good news is that you don't have to spend huge amounts of money and work with mega-influencers in order to move the needle. Micro-influencers with relatively small audiences often have a higher ROI than those with enormous audiences. Even though their audience is smaller, they tend to have a closer relationship with and greater influence over their audience.
In other words, when they make a recommendation, their community sees it as a testimonial. Furthermore, micro-influencers love doing giveaways for their audience, and brands benefit from the extra exposure.
For example, skincare brands can offer beauty bloggers samples of their newly released lip gloss in return for promoting it and using a branded hashtag.
8. Repurpose content
Repurposing content in different formats is a great way for beauty marketers to drive greater ROI from existing content.
For example, you could turn a long-form blog post into a series of YouTube videos that collectively cover the same information. Then, embed the videos throughout your article.
Or you could combine multiple blog posts into a downloadable eBook, then add CTAs to each of the articles. Alternatively, you might convert a series of Instagram posts into a lookbook. Maybe you could get creative with user-generated content and use a background changer to make it fit your branding, then post it on your social media channels.
9. Create an integrated omnichannel experience
The buying journey isn't linear, nor is it confined to a single channel. Customers bounce between stages, channels, and mediums. They might read a blog post, then watch a video on YouTube or TikTok, then come back to your website again as the seek answers to specific questions.
To create the best experience possible for customers, all of your marketing channels should be integrated. You want the experience of interacting with your brand to be the same, no matter what channel a person is using. This does not mean you should necessarily copy/paste your beauty marketing materials and messaging from one channel to all others, but it does mean you should customize for each channel.
---

Customers bounce between stages, channels, and mediums as they move through the marketing funnel.

---

TERAKEET
10. Measure, analyze, and improve your content performance
To make your content marketing efforts more effective, be sure to regularly measure and evaluate your results. You need to determine what's working, what isn't, and what adjustments you need to make.
The metrics you use to determine the effectiveness of your content will obviously depend on the content itself. For a blog post, you might measure the amount of organic search traffic it generates, how long visitors stay on the page, and whether they click through to any product pages. For a video, you might measure the number of views, the average time watched, and the percentage of viewers that watched beyond a specific point.
If a piece of content performs particularly well, try to determine why and then use that strategy more in the future. If content isn't performing particularly well, adjust as necessary, testing until you find what generates the best results.
Beauty brands winning at content marketing
Now let's look at four beauty brands who are using content marketing with great success.
1. Allure
Allure is having massive success driving organic search traffic to their website, beating out many large established brands on highly competitive informational and transactional keywords. Currently, Allure.com appears organically on Google page one for more than 520K keywords.
How are they doing it? By constantly producing highly valuable content. They create long-form guides to all manner of subjects, from product reviews to beauty trends to gift guides. This wealth of content has resulted in 43K sites linking to Allure's website, which helps boost their domain authority and organic search rankings as well as organic traffic.
2. Sephora
Like Allure, Sephora is also getting a large amount of monthly organic search traffic, with the website ranking on Google page one for 375K+ keywords. If you look at their website, you'll see that they've used a strategy similar to Allure, with a wealth of beauty guides and "best of" sections. This wealth of content has resulted in more than 95K websites linking to Sephora's site.
The brand is prolific when it comes to video marketing. Sephora has produced 124 videos with 600K+ views in the past three months alone. This has helped the brand to capture 1.3 million YouTube subscribers.
The brand has also created a Beauty Insider Community, with interest-based groups, a forum, Q&A, and photo gallery, allowing customers to feel even more engaged and connected to the brand.
3. Byrdie
As mentioned above, in Terakeet's Google Market Share Report for the Beauty Industry, we calculated the market share for the top brands in each of nine different beauty industry sectors. Along with Allure, one brand that really stood out was Byrdie, an online publisher that dominates in the beauty space on Google by creating engaging, long-form content.
Byrdie is a publishing-centered beauty brand beating traditional brands for highly competitive keywords. Their deep library of long-form content, product reviews, gift guides, and news, and a heavy emphasis on Google E-A-T puts them near the top of the search results for a huge number of both informational and transactional keywords.
The brand itself doesn't sell any beauty products, yet it trounces the performance of established, multi-billion dollar beauty brands and retailers when it comes to organic search visibility and traffic. For example, in the hair care and makeup markets, with a combined sample size of 7 million monthly searches, Byrdie held the top spot with the most Google organic market share of any website. Overall, approximately 88.9% of Byrdie's monthly traffic comes from organic search, according to Similarweb.
To learn more about how they've achieved such success, read our in-depth case study.
4. L'Oréal
Although L'Oréal is a beauty products company, it has recently been demonstrating a strong commitment to content. The business is taking a multi-faceted approach to beauty content marketing.
One example of this is the company's development of content-based, interest-driven microsites. Makeup.com, for instance, ranks on Google page one across more than 27,000 keywords. The site has attracted links from 12.7K+ websites. Hair.com ranks on Google page one for 16,000 keywords, while attracting links from 11.7K+ sites. And the brand's Skincare.com microsite is listed on Google page one for more than 5,600 keywords. The site has secured backlinks from more than 5.4K sites.
L'Oréal has also made inroads in Pinterest, with collaborations with over 20 Pinterest creators. These micro-influencers develop branded content using the platform's Idea Pins short-form video format. The content covers makeup tutorials and trends, which is exactly what potential customers of makeup brands have craved in recent years.
Targeting the hair care professionals market, L'Oréal Professionnel launched "Run Le Hair Show," an online video series about the cultural impact of hairdressing. The videos feature tips, classes, interviews, and more.
Beauty content marketing is an investment
Beauty content marketing isn't like intrusive 30 second TV spots or 15 second YouTube ads that stand between consumers and their content. Those types of ads are like megaphones that blast users with unwanted messages and hope for a few moments of attention. When done well, they can improve brand awareness. However, in most cases, audiences largely ignore them, hovering their finger over the skip button.
Search-focused content marketing, on the other hand, is more like a conversation that meets audiences on their terms. It listens to what consumers want, and it delivers answers in real time.
This type of marketing demands a deep understanding of your audience. You need to know how they think, how they search, and what they expect in exchange for a few moments of their invaluable attention.